Immunization is recognized in virtually every country as an essential health intervention. With the increasing availability of new vaccines against common lethal diseases, the combined power of both traditional and new vaccines has the potential to avert almost one fifth of deaths in children under five. But these vaccines are only as effective as the system that provides them.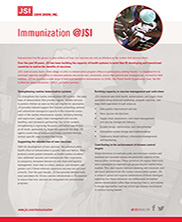 For almost 30 years in over 55 developing and transitional countries, JSI has been building the capacity of health systems to realize the benefits of vaccines. Based on its work at every level–from village to clinic to immunization program offices to global policy-setting forums–JSI is respected for the high quality of its technical expertise and for its unique ability to translate policies into action and, conversely, ensure that policies and strategies are informed by field realities. JSI has provided a wide range of technical services in immunization to USAID, the World Health Organization, Gavi, the Bill & Melinda Gates Foundation, UNICEF, and other partners. JSI staff currently serve on the World Health Organization's SAGE Working Group on Maternal and Neonatal Tetanus Elimination and on WHO's Immunization Practices Advisory Committee (IPAC).
Strengthening routine immunization systems
JSI maintains a strong commitment to strengthening the routine immunization system – the backbone of immunization that provides regular, reliable services to protect children as soon as they are eligible for vaccination. JSI provides countries with tailored support that focuses on building managerial capacity at national and subnational levels in the essential components of the routine immunization system, including training and supervision, supply chain management and vaccine handling, and building partnerships with communities. Key to the strengthening of routine immunization systems is improving the quality and active use of data at all levels, particularly by those who generate it in the first place. These are areas in which JSI has decades of rich experience that is constantly updated to address the increasingly complex field of immunization. JSI also recognizes the important role of context and assists countries in designing approaches that suit the needs, as well as assets, of their own situations. View related resources.
Supporting the introduction of new vaccines
With the advent of new vaccines, the potential public health impact of immunization is greater than ever before. But behind the high visibility launch ceremonies lie serious programmatic challenges: greater demands on health workers to correctly administer additional vaccines and communicate about them to caregivers; enormous impact on cold chain and logistics management; more data to collect, analyze, and interpret; and greater costs if these relatively expensive vaccines are not used correctly. Over the past decade, JSI has worked hand-in-hand with countries, providing detailed technical assistance for 30 new vaccine introductions in 15 countries to ensure that new vaccines are successfully integrated into the immunization program. JSI's support extends to post-introduction evaluations to identify problems and develop workable, lasting solutions to initial challenges. View related resources.
Contributing to the achievement of disease control targets
Global initiatives to eradicate polio and eliminate measles and maternal and neonatal tetanus are prominent aspects of the immunization landscape. These initiatives share the common feature of requiring short-term, mass campaigns to expanded age groups, above and beyond routine immunization. These require intensive planning and resources, and can divert attention away from the routine immunization system. JSI is an active player in global and regional deliberations of these strategies, exploring how these initiatives can more deliberately be used to strengthen routine immunization rather than detract from it and helping to design approaches (such as school-age tetanus vaccination) to achieve lasting impact. View related resources.

View a comprehensive list of resources related to JSI's work in immunization.
View an interactive timeline showcasing JSI's 30 years of work in immunization.